Dry Erase Fridge Calendar
With Alaboard's all new dry erase fridge calendar, you can organize your schedule easily in a place where you and your family will see it several time a day.  Your refrigerator calendar is magnetic so it will stick to any metal surface.    It easily fits on a full door fridge calendar or a side by side.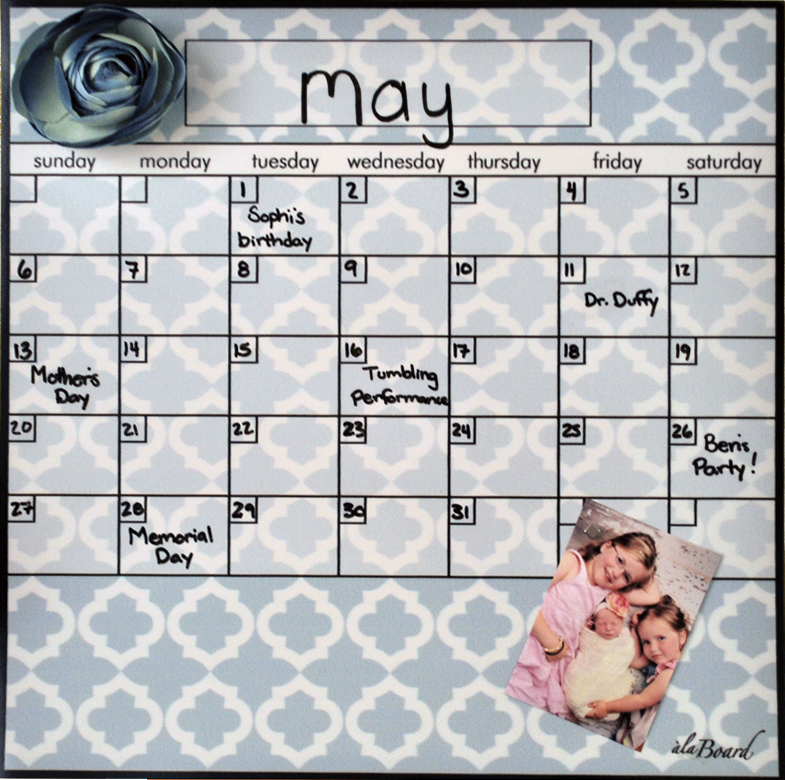 Styles
You can choose from the following dry erase fridge calendar styles:
Sky Blue Lattice
Natural Floral Collage
Wheat Brocade
Paisley
Mocha Damask
Unique Design
Not only can you manager your schedule and events, but you have room for special announcements or lists.  Having it conveniently located on the refrigerator easily allows you to track your shopping list.  Need to tell your kids what to have for lunch or other important messages?  The calendar is a perfect place where your kids can easily see and leave you messages as well.
How to Change the Numbers?
The alaboard dry erase refrigerator calendar is completely easy to dry erase.  So each month you can erase the numbers and fill in the numbers for the next month.  It takes seconds to change and you are ready for the next month.

Updating...
Where to put it?
Don't want to put the calendar on your refrigerator.  Many of our clients place the fridge calendar them on the garage door.  Most outside doors are metal which would attract the refrigerator calendar.  Every time you or your family leave the home you can have a reminder of your appointments and schedules.